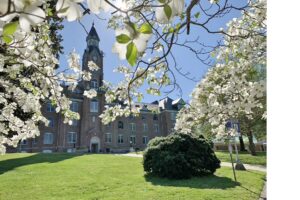 The North Carolina School for the Deaf (NCSD) is a day and residential program for students who are Deaf and Hard of Hearing (D/HH), situated in the beautiful foothills of North Carolina. NCSD was founded in 1891 and the school's first superintendent was Edward McKee Goodwin. NCSD delivers accredited academic services to students in grades; pre-kindergarten through twelfth. A multidisciplinary approach of services is available for students including; audiology, occupational therapy, physical therapy, and speech/language therapy. Summer Program opportunities are available to Deaf and Hard of Hearing Students, as well as siblings. Camp attendees can explore foci of interest such as technology, fine arts, athletics, and/or nature. Community outreach occurs through Educational/Cultural in-services, Expert Assessments, and American Sign Language instruction.
Prior to March 2020
Prior to March 2020, NCSD provided academic rigor through classes attended on campus by Educators of the Deaf. Extracurricular activities including various athletic teams, Robotics Club, Girl Scouts, etc. were conducted after school on-campus or at other schools. High School students were able to participate in virtual courses, as well as classes at the local community college. NCSD maintained communication with parents and the community via the school website, parent letters, videophone conversations, newsletters, and social media. Students participating in the Occupational Course of Study maintained relationships with over forty local businesses.
During March-June 2020
The initial two weeks of closure, per the Governor, allowed for preparation of electronic and paper content materials for students and their families. NCSD rose to the occasion, meeting the stipulations established by governing bodies with fervor. Students were served by a multitude of methodologies with priorities placed on communication, academic content/provision of support services, and safety. NCSD established a school-wide protocol for consistent communication, supplementary academic content and biopsychosocial checks occurring within mandated weekly timelines. Each student/family was contacted weekly and/or daily by academic staff, professional services including; social worker, audiologist, psychologist, mental health counselors and school counselor. Nutritional needs were provided for students via packages at bus stops and the LEAs. Consistent with NCSD's rich culture; Language Interpreting (e.g. Hmong, Spanish etc.) services were utilized as deemed appropriate. NCSD Staff fluency in ASL has allotted for direct instruction for each student. Students received supplementary academic instruction via a plethora of Virtual platforms. Each student (based on student needs, age, developmental skills) was provided with an iPad and 'paper/pencil' materials for coursework. Wi-Fi accessibility was evaluated for each student and regularly revisited as family situations evolve. Students receiving Speech Language Therapy, Counseling, Occupational Therapy, had service continuity through telepractice.
How the School Rose to the Challenge
NCSD has risen to the occasion with fervor as described above. While the method of delivery was different, students were happy to be seen in the virtual context. Educators compiled multimedia content, featuring all departments to greet and remind the students of their importance to Staff. The exceptional communication to families has been appreciated by parents some noted pleasant surprise by the multi-faceted communication. IEP Meetings occurred virtually. Parents were provided with materials in advance and streamlined agendas. Although many extracurricular activities were cancelled, the Athletics Director and Physical Education Educator provided virtual activities via social media. They invited all staff to attend a virtual Athletes Awards Ceremony. Students were excited to be honored for their athletic skills.
The NCSD Robotics Coach for the decorated NCSD Robotics Team, offered a virtual competition with other schools in lieu of an in-person competition. NCSD Commencement proceedings were handled with the upmost care and compassion for student acknowledgement and safety. Elementary proceedings occurred virtually with families and Educators actively participating. Middle School and High School ceremonies consistent of NCSD Staff venturing to student's homes bearing yard signage, taking photos, sharing gifts and showing love. While the COVID19 Pandemic has presented with challenges, NCSD has remained steadfast in the provision of services for students.
Where the School is Now
NCSD has concluded the 2019-2020 Academic Year. Due to the COVID-19 Pandemic and Governor declaration to maintain health and safety, Summer Camp was not offered this year. Requirements have been announced by the NC State Board of Education and Governor, requiring a set of three Plans for the delivery of educational services for the 2020-2021 school year. These decisions have required changes to the Academic Calendar, mandatory Remote Learning Days and delineated methods to maintain safety/social distancing. NCSD Administration has been taking a proactive role in the process to ensure superb preparedness for the Phase Declaration to be announced in July.
Looking Ahead
NCSD's reopening process will be influenced by the guidelines provided by the Department of Public Instruction, Centers for Disease Control, State School Board and Governor. NCSD is enthusiastically looking forward to meeting the needs of our students in a 'whole child' manner. We have solidified relationships with the North West Regional Educational Service Alliance. We have learned that continued involvement in state and regional meetings/trainings is crucial to share perspectives in Deaf Education and learn from Educational Professionals. Our assertation in such contexts ensures that the NCSD Community is not forgotten and receives the resources allotted to local educational systems.
Superintendent: Mark D. Patrick