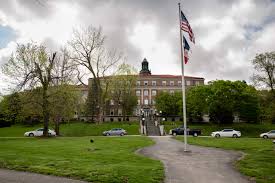 Iowa School for the Deaf is observing its 165th year of providing programs and services to the Iowa's preschool – transition aged students who are deaf or hard of hearing. Our enrollment is currently under 100 students. The school has established effective outreach services by offering interpreter evaluation and mentoring to public schools, and has established extended learning opportunities throughout the state, including summer camps.
Prior to March 2020
Prior to March, 2020, ISD offered online ASL classes to mainstream d/hh students in Iowa so they would have access to a native signer. IEPs were sometimes conducted via Zoom.
During March-June 2020
Phone calls, texts and emails were used to contact parents regarding school closure, and how to access learning resources. Updates were provided throughout the spring. Teachers quickly flexed their versatility muscles and became experts at using Zoom, Google Classroom, Flipgrid and other applications to provide engaging, voluntary learning. Teaching staff and student life staff co-hosted Zoom chats to connect with students- helping alleviate the feelings of loneliness and boredom and to gage student/family emotional health and basic needs. The high school counselor arranged to send pizzas to students' homes on their birthdays. Transportation and dorm staff was busy running students' personal items from the dorms to their homes as well as graduation gowns and signs.
How the School Rose to the Challenge
One of our seniors secretly organized students to make signs and send him photos so the collage featured multiple students with the phrase, "Dear Staff, We miss you so very much and we want to see y'all again." We made a "We miss our students" video featuring many little videos- every student's face was on a decorated poster, and individual staff took posters home and made a short video about each student that was rolled into one.
Where the School is Now
Staff are anticipating holding school in various formats, such as on campus or virtually. Preparations are being made for ordering supplies that will allow us to provide a safe environment, and administrative staff are engaged in daily meetings to plan for the future, following guidance from the Iowa Department of Education.
Looking Ahead
As with many schools, we found our students' participation in the voluntary learning to wane as the end of the school year grew closer. Should virtual learning be required this school year, our students are better equipped with computer and internet access, and parents/families as well as staff will better understand how mandatory lessons will be provided. The experience from the last few months will help faculty and staff know to which delivery methods students respond best.
Superintendent: Steve Gettel